The Newest & Biggest RC Ship in the Fleet!!
Introducing the Wonder of the Seas!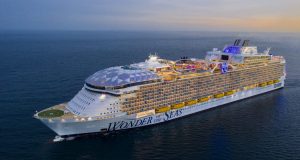 Itinerary!
Sunday, Sept 29th – Pt. Canaveral
Monday, Sept 30th – Coco Cay
Tuesday, Oct 1st – Cruising
Wednesday, Oct 2nd – St. Thomas
Thursday, Oct 3rd ~ St. Maarten
Friday, Oct 4th ~ Cruising
Saturday, Oct 5th ~ Cruising
Sunday, Oct 6th ~ Pt. Canaveral
Pricing includes all taxes/fees:  
Balcony – $1,465.64/pp (DO); Ocean View – $1,275.64/pp (DO) ~ Suites, Interior & Single Occupancy cabins available at prevailing rates!
 Deposit of $250/pp is due at time of booking ~

Final Payment due by 6/15/24.
Extras:  Trip Insurance – $109/pp, Gratuities: $112/pp
Bus transportation to Pt. Canaveral will be available at an additional cost!
Meet & Greet on ship with door prizes!