Tom and Carol Cane, Leesburg, FL Office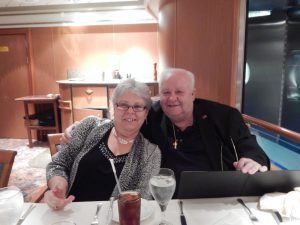 Travel has always been a passion for my husband Tom and me. Back in 1987 we decided to team up with an agency in the Philadelphia area and work on a part time basis. Our first group cruise was leaving from Philadelphia and sailing over to Bermuda. At that point we caught the "cruise bug" and decided to be a little more serious about the business. Disney World was our #1 land destination and Celebrity was our #1 cruise line. In 2004 Tom retired from the PA Dept. of Corrections and we moved to sunny Florida. Hurricane Jeanne welcomed us to Florida.
Living in Florida changed our lives as well as our business. Bus Trips became a big part of the requests we were receiving. Residing in the Leesburg area gave us access to two great performing art centers; Tampa and Orlando. Of course casinos are another favorite destination.
With over 25 years of experience we decided to venture out on our own and as a result Carol's Trips was established. Customer Service is our #1 priority next to planning your dream vacation, group excursion, honeymoon or a destination that might be on your "bucket list". Where ever you want to go, we would be honored to fulfill your vision.
As we say at Carol's Trips – "It's Time To Go"!
Tony and Susan Rust, Baltimore/Washington Office
My name is Susan and I'm excited to open a Baltimore/Washington office of Carol's Trips, LLC.  I guess you could say that travel has been a constant in my life.  As a child, my family always traveled.  We explored the entire East Coast from Canada to Florida in the family's station wagon.
When I married my husband Tony, a U.S. Marine, travel became a way of life.  During his twenty years of service we had the opportunity to explore much of the United States.  Drives from one military base to another included stops in famous places like the Grand Canyon, San Antonio's River Walk and Las Vegas.  My love for all things Disney blossomed when we lived in both Florida and Southern California.  After moving back to Maryland and becoming a parent to my son Christian, cruising became a fresh way to explore new and exciting ports of call.
Now that Tony has retired from the Marines and we have settled in Maryland, I decided to use all of my travel experience toward a change in career.  As a mom, former teacher and military spouse I know how important it is to have time to relax and rejuvenate.  I look forward to helping you plan your dream vacation, honeymoon or fun-filled family vacation.  It will be my pleasure to help you find the best way to explore your dream destination.
As we say at Carol's Trips ~ "It's Time To Go"!  I'm excited and ready to help you do just that!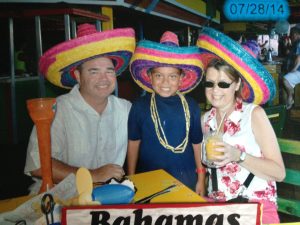 Janet Callahan, The Villages South, Florida Office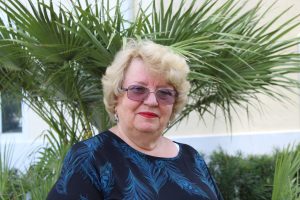 Like Carol, travel is a passion for me and my husband Jim. We have lost count on the number of cruises we have taken over the years.  While still living in New Jersey, we would travel to Disney World at least once a year and we still enjoy everything Disney.
My first career was Food Service Director in both business and schools, but after 25 years, I gave it up so we could travel more.  That was when our travel agent offered me a position in her New Jersey agency as the Disney expert.  I found this new position right up my alley, especially when I took groups on cruises or to resorts.  But approximately 10 years later, my husband decided to retire and we moved to The Villages in Florida.  Retirement and The Villages are great, and we have gone on numerous cruises as well as bus trips, since moving here.  But I was still missing something; the interaction and sharing stories with clients when planning their trips.
But all is now good since I met Carol Cane and she offered me to be The Village agent for Carol's Trips, LLC.  So call me or send an e-mail so we can start planning your next dream vacation.
Sharon Wernli, Wildwood Florida Office
I would like to introduce myself!  My name is Sharon Wernli and I currently live at Continental Country Club in Wildwood, Florida.  I was born and raised in the state of Michigan where most of my family still lives.  My parents moved the family to Cleveland Ohio where I got married, raised a family and started my professional career.  At this time I worked for a Industrial Controls Distributor for over 20 years and was in charge of the purchasing and inventory control department for numerous warehouses throughout the United States.  Yes, this is where I learned to be detail orientated and price conscious with my primary concern of meeting our customer's needs and requirements.
After retiring in 2002 and moving to Florida, which I must say was on of my best decisions, I met Carol Cane from Carol's Trips, LLC.  Over the years she introduced me to several wonderful cruises, thrift/consignment shopping bus trips as well as the theater, cooking classes and much, much more.  I have enjoyed and experienced so much fun and laughter as well as meeting and making new friends.
As a Florida resident, I'm excited to have the opportunity to work with Carol and help others experience the same joys.  As the saying goes, "…the tans will fade…but memories will last forever".