Thank You Al, Maria, Mike & Eunice!
Carol (and Tom), thanks for a fabulous trip to Bradenton! We had a wonderful time and even reconnected with some old neighbors from Duval!
The Compass was a great hotel, staff friendly, lovely location and we of course loved the suite! Everything was great! Your hard work and coordination was evident throughout the trip.
Please keep us posted on the next trip to Compass!
We're so happy that we booked our cruise with you, Carol. Everything went so smoothly due to your organization and advice. We had a wonderful, relaxing cruise and didn't have to worry about anything. We met some lovely couples and always had someone to enjoy things with everywhere we went. You can bet that our next cruise will be booked with you!
Cliff and Robin Ziegler,
Pittsburg, PA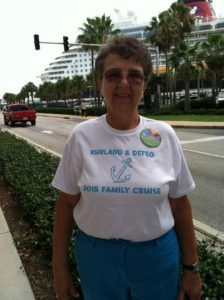 Sandy & her family recently went on a Disney Cruise to Celebrate one of Sandy's "Special" Birthdays.  As you can see from her comments & photos, they all had a great time.
Carol, I want to thank you for helping us have such a great Disney Cruise to celebrate my (early) birthday with my family.  I know we had to book it a year in advance to get the rooms and decks I wanted.  Then you set up payment plans and got up early to do the "on-line" check-in so we could get the best boarding time.  We started our activities right away.  It was a "magical" time on the Disney Dream.
Sandy Kurland,
Leesburg Fl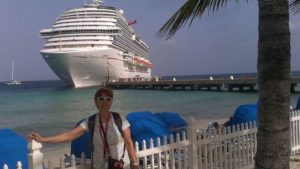 Recently we went on the Carnival Magic for our 30th Anniversary.  We had a fantastic 1st cruise and we have to thank Carol from Carol's Trips.  We had no idea where to start and Carol took care of everything including printing out our Boarding Passes and luggage tags.  While on the ship we were looking to book another cruise but waited until we got home because we wanted Carol to work with us again.  Little did we know that if we booked it while on the ship, Carol still would have been our Travel Agent.  "Hay a lot of times cruises are what you make of them AND WE MADE THIS ONE OUTSTANDING".  Of course with Carol's help
Rich and Ruth Cole
Wildwood, FL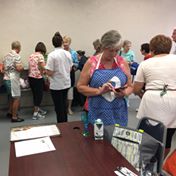 I just want to thank you for a truly enjoyable day today in the Cooking Class.  From the time we got on the bus in Brownwood, the ride up to Ocala, the very personable Mother and Daughter team teaching us the cooking recipes and sharing their 'cooking secrets', enjoying the meal and right down to the ride home, everything was top rate.
The people attending this cooking session were so friendly and conversations flowed.
I look forward to taking another Cooking Class and attending another of your trips.
Pat Myers.
The Villages, FL
Thank you Jake and Karen!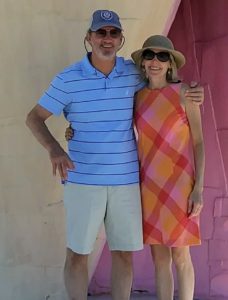 I wanted to thank you for a number of things: the chocolate cherries in our room when we boarded; your card upon our return; and all you did to prepare and book us for such a fantastic cruise!  I'm not entirely certain that everyone's first cruise turned out as fun and satisfying for them as ours did for us, but Karen and I sure enjoyed every day and night on the ship, as well as in Key West, Cozumel, Belize City and Costa Maya.
We met quite a few new people (many of whom we now call friends) and since the Rhapsody is not a huge ship, we ran into them and hung out with them over and over though out the 7 days.  The food, all the staff, the entertainment, the excursions and the general atmosphere on board were really exceptional.
Thanks again and we already plan to take another cruise in the not-too-distant future!
Jake Beahan and Karen Macey
Tavares, FL
Dear Carol,  Thank you so much for your very interesting talk about all of the great trips offered by Carol's Trips.  The members of Florida Iota Beta Sorority are looking forward to working with you on future trips.
Carolyn Skorich, Corresponding Secretary
Florida Iota Beta